Second Amendment Sanctuary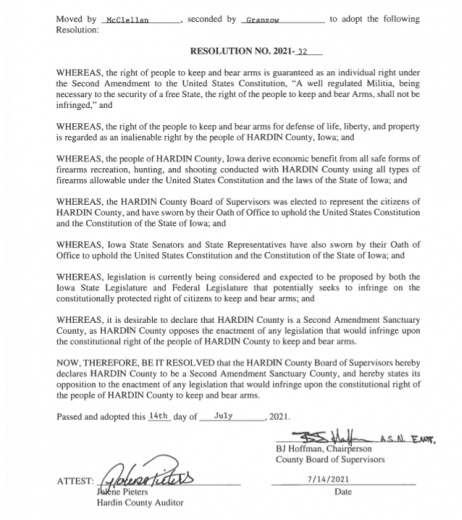 ELDORA – The Hardin County Board of Supervisors unanimously approved a resolution July 14 making Hardin County a Second Amendment Sanctuary, following Jasper County's decision to do the same, which was made the day before on July 13.
The public was allowed to speak on the subject prior to the board's vote, and the majority of comments were in favor of approving the decision.
Jon Dunwell, a Republican candidate for Iowa State House District 29 last November spoke on the issue first. "(I'm) just an advocate for rights and the second amendment," he began. "I want to speak in favor of what your county Board of Supervisors is considering today. One of the things we see across our country is the limiting of rights. When I think about what you're proposing here, I don't look at it only from a gun perspective, I look at it as a way of respecting the rights that our constitution gives us."
He said this amendment was a basic right on how far our government can go and believes that the board's responsibility is to ensure the Constitution is fulfilled.
However, Eldora resident Julie Duhn spoke out against the resolution stating, "This resolution talks about a well-regulated militia. Am I to understand that the county is going to establish a well-regulated militia? I don't think we have those anymore. I don't know, you might call them the National Guard, whatever. This is just a piece of political theater. Throwing red meat to a certain set of voters… you want to keep their attention so they vote, because they are the least likely group to vote. Do any of you supervisors actually believe there will be legislation to take everybody's guns? It's ludicrous."
"Obviously you're going to pass this resolution," added rural Eldora resident Donna Juber. "But my question is, should Sheriff McDaniel deem it necessary for safety purposes? Would this resolution prohibit him or his deputies from using state or federal laws to remove weapons from a property or a situation?"
"No it does not affect anything from an enforcement standpoint for us," Sheriff Dave McDaniel replied. "We'll still prosecute gun crimes."
"Why do you feel we need this resolution is my first question?" asked Union resident Pauline Lloyd. "Don't we kind of already have this? Why politicize this? In a way it's going to make Hardin County stand out and who's to say – we do have a lot of people that get antagonized real early. I've been threatened already about the mask issue. Who's to say that now since we have the right to carry, how much more violence is this going to bring to Hardin County?"
Eldora resident Matt Crouse disagreed and said he favored the resolution. "I'll just say that I really encourage you to pass this resolution, as we recognized in our country the federal overtake of our individual rights… state's rights," he said. "We have the resolve that this is an important second amendment, it's very important to our upholding of our republic. And if nothing else, it provides a statement that we're not going to put up with the overreach of government, the federal government to take our rights as they've been attempting to, and so I encourage you to pass it."
Supervisor Lance Granzow spoke first after Supervisor Chair BJ Hoffman read the resolution in its entirety. "Why it's on the agenda isn't as important to me as that it is on the agenda, and I do believe in it," he stated.
"I would say the same thing," agreed Supervisor Renee McClellan. "And I do know from listening to the news, that there has been one other county that has also passed this. So we're not the first. I believe in everything that's stated in the resolution, also."
Hoffman read a statement he had prepared about the resolution: "Today's resolution isn't about restricting law-abiding Hardin County residents from lawful firearms ownership. The resolution isn't about forcing a Hardin County resident to own an ArmaLite Rifle. This is about preemptive action that I believe I took an oath to protect and that is of the Iowa and U.S. Constitutions. The issue of gun control has been part of American politics before the nation was founded. Debates centered around hunting, military defense, and the question if slaves and freedmen were allowed to be armed. The debate started in England and popularized in the American colonies with the spread of Henry Care's English Liberties: or, the Freeborn subject's inheritance (1680), and discussed in the American printed Conductor Generalis, or the office, duty and authority of Justices in 1722. The debate about gun control and the Constitution was a headache for James Madison. He set out to make both Federalists and Anti-Federalists happy and consequently upset both groups."
Hoffman added that he did not think making Hardin County a Second Amendment Sanctuary would antagonize behaviors. "I stand behind this resolution," he said.
Category:
Mid-America Publishing
This newspaper is part of the Mid-America Publishing Family. Please visit www.midampublishing.com for more information.