Joseph Raymond Williams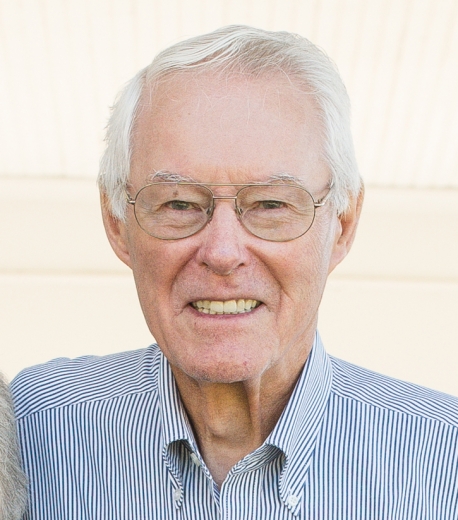 Joseph Raymond Williams - born June 15, 1932, and died June 22, 2021 - of New Providence, Iowa, was the fifth child of Malo and Luther Williams. His four siblings were Lowell, Paul, John and Lois.
Upon graduation from New Providence High School in 1950, he headed off to the University of Iowa where he was a member of SAE fraternity and ROTC. Air Force ROTC enamored Joe with the potential of a career in flight, and he soon found himself in basic pilot training April 1955 at Lackland Air Force Base, San Antonio, Texas. In December 1959, he was based in Masawa, Japan, flying photo reconnaissance in RF101 aircraft over Vietnam. 1962-1964 Joe was in the RF101 Squadron that executed photo reconnaissance over Cuba during the Cuban Missile Crisis. The aerial photography over Cuba earned him the United States Air Force Air Medal and the Distinguished Flying Cross. He was the formation's lead pilot for a fly-over for Pres. John F. Kennedy.
After 12 1/2 years of active service in the United States Air Force, he joined an Air Force Reserve unit in Los Angeles, Calif., where he became Lt. Colonel and completed a total of 28 years of service. In October 1967, he became a commercial pilot for United Airlines, retiring from United in April 1997. At United, he flew DC - 8, 727, 747, and DC-10 aircraft.
In 1969, he met and married TWA Flight Attendant Jeannette Webeler. Together, they made their home in Tustin, Calif., and summered in New Providence, Iowa, raising two daughters Kathryn (Katie) Mills and Carrie Rebecca. A lifelong learner, after retirement from United Airlines, Joe recaptured his love of music by taking up trombone and singing in the church choir at Tustin Presbyterian Church. In 2007, learning how to use a 21-gear bike, Joe and Jeannette continued their life of adventure and travel, riding through Venice, Germany and Belgium as recently as 2016. He was proud "Papapa" to Camden Olivia (10), Cru Patrick (8), Remington Page (6), and Bodhi Christian (5) Swenson as well as Adelaide Leigh (8), and Lochlyn Joseph Krupke (5). He is survived by wife, Jeannette of 45 years; daughters Katie (Eric) Swenson of Salt Lake City, Utah; and Carrie (Gerard) Krupke of Norwalk, Iowa. Services will be held at Honey Creek New Providence Friends Church at 604 Cherry in New Providence at 1 p.m. Saturday, Aug. 7 with graveside honors immediately following.
Category:
Mid-America Publishing
This newspaper is part of the Mid-America Publishing Family. Please visit www.midampublishing.com for more information.