Hester Elerding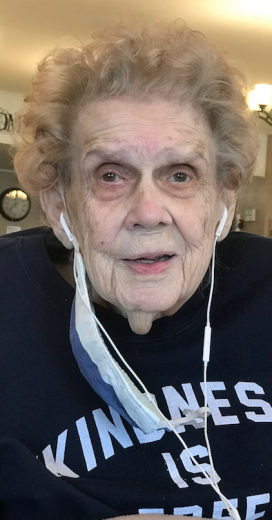 Hester Elerding, 102, of Eldora, passed away Tuesday, February 16, 2021 at Valley View Specialty Care in Eldora. Woodley Funeral Home and Cremation Services of Iowa Falls assisted the family with cremation care.
Mark Twain wrote "I came in with Halleys' comet and I expect to leave with Halleys' comet." Hester did not make quite as grand an entrance and exit as Mark Twain, but she came into the world in a global pandemic and she left the world in a global pandemic, neither of which affected her good health. In the intervening 102 years she had a full and interesting life.
Hester was born in Eldora, Iowa, on August 19, 1918, to Elva (Hall) and Edwin Morey, the second child and only girl of three. There was a saying in the family that the Halls were born on wheels. Hester started and ended life that way. When she was only two months old, her mother had a severe case of the flu; Hester was placed in her baby buggy, put in the baggage car of the train in Eldora and sent to Union, Iowa, to be cared for by her Grandmother Hall.
Hester attended school in Eldora and Liscomb, graduating from Liscomb in 1936; she then attended the Evangelical Deaconess Hospital School of Nursing in Marshalltown, graduating in 1939. She worked as an RN first in Hampton, Iowa, where she met and married Earl Manatt. They later moved to southern California where she worked in various hospitals and physicians' offices in the Los Angeles and Hollywood areas. Hester and Earl had one daughter, Karen.
After returning to Iowa, she worked at the Eldora Hospital and as the Hardin County Public Health Nurse. She married Everett Elerding who farmed SW of Eldora and they had three children: Lynn, John, and Jane.
Retiring after forty plus years as a nurse, Hester continued to volunteer and stay active. She was a member and officer of various organizations in the Eldora area including: Friends of the Library, Dorothy's Senior Center, the United Methodist Church, OES, DAR, Eldora Women's Club, and the Chapel Cemetery Society. She was always traveling. She particularly enjoyed Maine, California, any historical site, and her favorite place was, Jackson, Wyoming, visiting there for a few weeks every summer for over thirty years. Besides physically traveling, Hester traveled as a voracious reader. It was not unusual for her to have books she was reading in three or four different rooms of her house. During the last year she listened on the phone while her daughter read over forty books in their nightly reading sessions. Most of the books were nonfiction, but the list also included many David Sedaris books whose stories always made her laugh.
Hester is survived by her daughter, Jane, of Iowa; son-in-law, Gerry Wall of California; nieces and nephews including Steve Morey of Minneapolis, Pam Marks of New Hampshire, and Dave and Tam Elerding of Iowa Falls. She enjoyed an honorary daughter, Jill Grego, of Eldora; honorary granddaughters Chelsea Donaldson of Eldora, and Ashley Grego of Ames; honorary great-granddaughter, Noella Donaldson; and Hester's cat, Tu. She had many friends whom she appreciated and who made her life much richer, interesting, and diverse.
After an evening of conversation and reading with her daughter, Hester died in her sleep having lived a long and full life.
A celebration in honor of Hester will be held later in the year. Memorials may be directed to Friends of the Library or Dorothy's Senior Center.
Visit Woodley Funeral Home and Cremation Services by clicking here.
Category:
Mid-America Publishing
This newspaper is part of the Mid-America Publishing Family. Please visit www.midampublishing.com for more information.